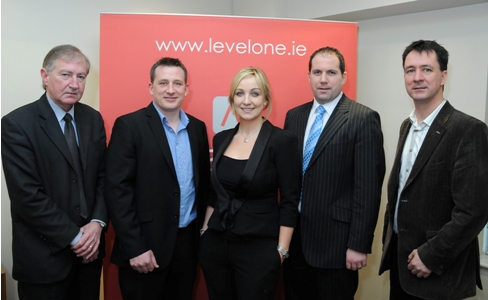 Pictured are from (L – R) Michael Quinn (Michael Quinn & Co. Solicitors), Gary Melvin (Brandon Consulting Sales Director), Linda Burke (MD, Level One), Enda O'Connell (OC Consulting) and Ken Little (Ken Little Design Studio)
Business Offers Free Support to Developing Companies
Level One is offering free support to new start-ups and growing businesses. Wishing to help stimulate business development, Level One is providing advice through established service providers in the areas of Finance, IT, Law, Graphic Design and Web Development. These service offerings have come about through steady client feedback and are meeting some of the needs Level One clients and prospective clients have made known there is currently a lack of for start-up and growing businesses without major financial outlays.

Offering a depth of knowledge and a range of expertise, the service providers involved are all in a position to give advice on the areas for which new and growing businesses most often seek.
Service providers include Brandon Consulting, an IT Services company. Brandon Consulting will be available for IT Support and also discounted setup and supply of IT equipment including desktop and server hardware.
Michael Quinn & Co. Solicitors is a full legal service firm equipped to give advice on business subjects such as Employment Law and Debt recovery, which are vital for businesses to keep costs down and a consistent cash flow.
Designers at Ken Little Design Studio, can help develop a unique corporate identity and web presence to enhance the marketing and appeal of businesses to their key target markets.
OC Consulting are also on hand to give advice on finance and accounting in business areas such as cost cutting, financial statements, financial planning and taxes.
Linda Burke, Managing Director of Level One, says
"Level One is delighted to be in a position to provide these basic services to clients through such recognised professionals. In dealing consistently with young and growing businesses, the one problem we've found across the board is that basic business services which most businesses require are out of reach for many due to costs incurred. Most businesses then can't access this valuable advice and support which could enhance their business and help bring them to profit much quicker than they themselves could previously have anticipated."
Level One accommodates large enterprises, SMEs and sole traders. The company is adept at working with their clients to ensure their business environment and space needs are met. Located in Liosbán Business Park and Galway Technology Park, Parkmore, Level One provides office suites, virtual offices and mail handling services which portray professionalism while teaming businesses with a full-time receptionist who becomes part of each company's team.
For further information on the business support services offered by Level One, call us on 091 782 810 .
*Terms and conditions apply